by Jerome Kehrli
---
Posted on Tuesday Jun 08, 2021 at 09:18AM in Banking
---
(Article initially published on NetGuardians' blog)
Whenever our software is run head-to-head in a pitch situation against that of our rivals, we always come out top. We always find more fraud with a lower number of alerts. For some, this is a surprise – after all, we are one of the youngest companies in our field and one of the smallest. To us, it is no surprise. It is testament to our superior analytics.
A focus on customer behavior
We began working in fraud prevention in 2013 and quickly realized the futility of rules engines in this endless game of cat-and-mouse with the fraudsters. The criminals will always tweak and reinvent their scams; those trying to stop the fraud with rules engines will always be left desperately working as fast as possible to identify and incorporate the latest scams into their surveillance. Far better to focus on what we know changes very little – customer behavior.
If a bank knows how a customer spends money, it can spot when something is awry by looking for anomalies in transaction data. However meticulous the fraudster is at trying to hide, every fraudulent transaction will have anomalous characteristics. People's lives are constantly changing – they buy from new suppliers, they move house, go on holiday and their children grow up – all of which will affect their spending and transaction data. Every change will throw up false alerts that will undermine the customer experience unless you train your models correctly.
The three pillars of 3D AI
We train our models using what we call our 3D AI approach. This enables them to assess the risk associated with any transaction with extraordinary accuracy, even if it involves new behavior by the customer. This also keeps false alerts to the minimum.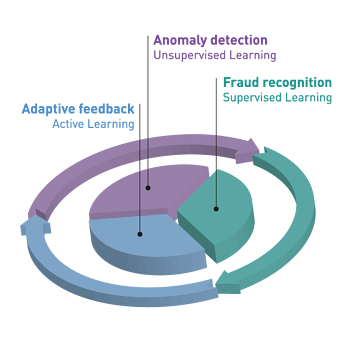 Developed by us at NetGuardians, this approach has three pillars, each of which uses artificial intelligence (AI) to constantly update and hone the models.
The pillars are: anomaly detection, fraud-recognition training analytics and adaptive feedback. Together, they give our software a very real advantage by not only spotting fraud and helping banks stop fraudulent payments before any money has left the account, but also by minimizing friction and giving the best possible customer experience. This is what differentiates our software in head-to-head pitches.
Read More
Tags: ai artificial-intelligence machine-learning netguardians
---