Entries tagged [scale-up]
by Jerome Kehrli
---
Posted on Monday Aug 17, 2020 at 10:31AM in Agile
---
The Search for Product-Market Fit is the sinews of war in a startup company. While the concept and whereabouts are well known by most founders, the importance of this event in the company and product building process, what it means to be Before-Product-Market-Fit and After-Product-Market-Fit and the fundamental differences in terms of objectives, processes, culture, activities, etc. between these two very distinct states is almost always underestimated or misunderstood.
Product-Market Fit is this sweet spot that startups reach when they feel eventually that the market is really pulling out their product. It's what happens when they found out that they can only deliver as fast as the customers buys their product or when they can only add new servers in the SaaS cloud as fast as is required to sustain the rise in workload.
Product-Market Fit is so important because it has to be a turn point in the life of a young company.
Pre-Product-Market Fit, the startups needs to focus on the leanest possible ways to solve Problem-Solution Fit, define and verify its business model and eventually reach Product-Market-Fit.
Post-Product-Market Fit, the company becomes a scale up, needs to ramp up its marketing roadmap and effort, build and scale it's sales team, build mission-centric departments, hire new roles and recruit new competencies, etc.
Dan Olsen designed the following pyramid to help figure what Product-Market Fit means (we'll be discussing this in length in this article):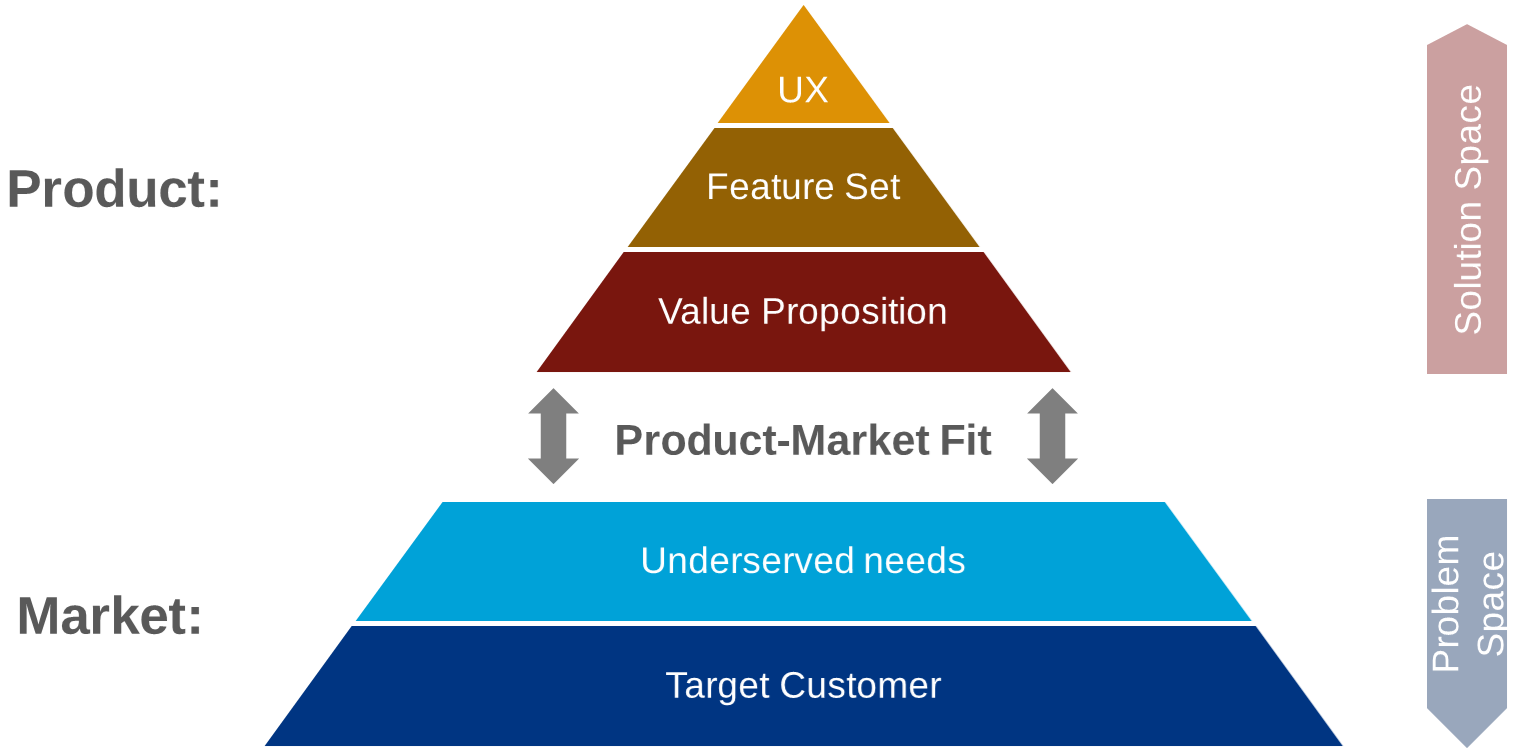 Understanding Product-Market Fit and being able to measure and understand whether it's reached or not is crucial. Reaching PMF should be the core focus of a startup in its search phase and understanding whether it's reached is key before scaling up.
This article is an in-depth overview of what Product-Market-Fit means and the various perspective regarding how to get there. We will present the Lean-Startup fundamentals required to understand the process and the tools to reach product market fit, along with the Design thinking fundamentals, the metrics required to measure it, etc.
Read More
Tags: agile agile-methods design-thinking four-steps-epiphany lean-canvas lean-startup mvp pmf product-market-fit scale-up startup value-proposition-canvas
---